No.95S NITOFLON Pipe Seal
Nitoflon No95S | Pipe seals
No.95S | For a tight seal by simply wrapping it around screw couplings, both metal and PVC pipes
| Features of No.95S
Its unique self-welding capability provides a tight seal by simply wrapping it around screw couplings. Easy to screw on, attach, and remove.

Screw coupling leaks caused by gaps between male and female screws can be prevented, especially by increasing elongation in the transverse direction.

Featuring impressive cold/heat resistance capabilities, with a temp range of -100 to 260 ℃.

Most chemicals (excluding fused alkali metals) Impenetrable by solvents or vapors.

Unlike with conventional twine and liquid compounds, your hands won't get dirty. Work is made quick and easy. Usable with metal pipes such as iron, aluminum stainless steel, copper, and aluminum, as well as with plastic piping such as PVC.
| Properties of No.95S
Product No.
No.95 (JIS)
No.95S
Size
Thickness [mm]
0.1
Width [mm]
13
Length [m]
5/15
Tensile strength
Machine direction [Mpa]
15
9
Elongation
Machine direction [%]
50
80
Operating temperature range [℃]
-100 to 260
Flammability
Nonflammable
Chemical resistance
Strong acid
Excellent
Alkali
Excellent
Organic solvent
Excellent
| Applications
No.95S Nitoflon

Sealing for various pipe couplings.
| Specifications
Product No.
No.95 (JIS) / No.95S
Size
Thickness: 0.1mm
Thickness: 0.1mm
Width: 13mm
Width: 13mm
Length: 5m
Length: 15m
Individual package
1 roll
1 roll
(Plastic reel)
(Plastic reel)
Inner package
10 

roll

10 

roll

(Stored in case)
(Stored in case)
Outer package
1,000 

roll

600 

roll

(Stored in cardboard box)
(Stored in cardboard box)
Available on Lazada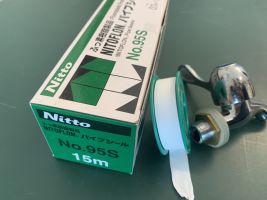 Tài liệu
Danh mục bạn quan tâm
Có thể bạn quan tâm

R065 High performance mixing paddle

RF155 skim extra force for surface defect repair

RF102 acrylic skim | flexible, no crack, sandable and paintable

RF143 primer bonding removing dust, reducing shrinkage

FX55 hybrid lightweight panel jointing compound

RF134 Crack Repair Kit | Precast hybrid joint compound

AS-4002 PREMIER CONSTRUCTION SEALANT

Weatherseal silicone sealant AS207

All purpose sealant AS-201