RF155 skim extra force for surface defect repair
DESCRIPTIONS
It is a mixture of powder based on special cement, fiber and special additives, designed to be mixed with water for surface repairing such as grooves, seams, fine cracks and rock pockets on concrete surface and also repair joints of fiber cement and precast concrete. It is easy to apply and fast dry, good adhesion strength, flexibility and good weather resistance. It can be used both interior and exterior, walls and ceilings with good bonding to cementitious substrates and durable hard wearing surface. It is perfectly smooth finish and also possible to be exposed or painted.
FEATURES
Good adhesion and flexibility

Easy to apply and fast dry

Can be sanded easily

Perfectly smooth finish

Durable hard wearing surface

Good weather resistance

Multi-layer coated without cracking

Possible to be exposed or painted

Interior and exterior use

Antimicrobial
APPLICATION
1. The surface must be structurally sound, free from dust, grease and other loose contaminates.
If the job site is hot or windy dampen dry surface before application.
2. Mix 20 kg. of RHINOZ Skim Extra Force with 6.0 – 6.5 litre of clean water until a homogenous mixture is achieved. Leave the mixture to stand for several minutes.
3. Apply the mixture to the prepared substrate with steel trowel or putty knife. One or more coats may be
applied depending on the desired finish, sanding may be required to obtain an even higher degree of
smoothness.
4. Allow 1-2 hours between coats and pre-covering curing time 1-2 days.
( Depending on the thickness and atmospheric conditions )
5. Clean tools with water before the product dries
PACKING SIZE
20 kg./bag

STORAGE
Store in a dry place with shelf life 1 year in the original unopened packing

TECHNICAL DATA
Base : Special cement
Appearance : Grey powder
Density : 1.3 – 1.5 g/cm3

Mixing ratio : 20 kg. of Skim Extra Force with 6.0 – 6.5 litre of clean water ( 100/30-33 by wt. )
Dry to recoat : 1 – 2 hours ( Depending on ambient conditions and thickness )
Dry to sand : 12 – 24 hours ( Depending on ambient conditions and thickness )
Bond strength : 1.0 N/mm2 ( ASTM D4541 )
Coverage : 1.3 kg./m2 /mm.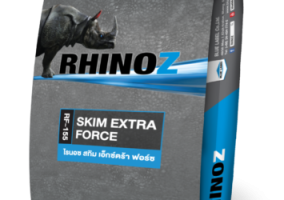 Tài liệu
RF155 Technical Data sheet
Danh mục bạn quan tâm
Có thể bạn quan tâm

R065 High performance mixing paddle

RF102 acrylic skim | flexible, no crack, sandable and paintable

RF143 primer bonding removing dust, reducing shrinkage

FX55 hybrid lightweight panel jointing compound

RF134 Crack Repair Kit | Precast hybrid joint compound

AS-4002 PREMIER CONSTRUCTION SEALANT

Weatherseal silicone sealant AS207

All purpose sealant AS-201


AS-208 Glass & Metal Sealant