Tank Base Corrosion Protection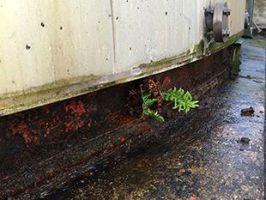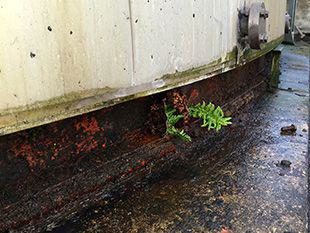 Above ground industrial storage tanks and their contents are extremely valuable assets that need to be protected.
As a result of adverse weather conditions or condensation, moisture can accumulate at the chime angle or track under the base of the tank which can lead to corrosion of the tank base, leakage or ultimately tank failure.
The implications of this however, extend far wider than just the cost of the tank and its contents.
Tank base corrosion is often caused in the following ways:
Settlement of storage tank

Intermittently immersed in rainwater

Localised void cavities between tank and base

Saturated insulation creating localised and severe CUI

Failure of mastic type sealants

Cracking and shrinkage of hot bituminous applications

Fire sprinkler systems creating pooling and ponding around the base

Tank deluge systems

Expansion and contraction of tank
Traditional Maintenance Challenges
Storage tanks can be exposed to extreme weather and operating conditions such as rain, heat and loading. Conventional protection method is painting, subject to cracking, pilling-off and UV attack which do not guarantee a long term protection. However, for a comprehensive and long-term solution it is essential to stabilize the rust from inside and weather-proof from outside (preventing penetration of corrosive agents oxygen, water, acid, dust, salt moisture etc).
The effectiveness of Nitto Denko' anti-corrosion solution for storage tanks has been proven through these applications resulting in increased life for storage tank, avoiding demolition and reconstruction and minimising interruptions to the business.
To find out more about Nitto Denko anti-corrosion XG series, please visit us here
Bài viết liên quan
Dự án liên quan
Các sản phẩm dùng cho dự án