Corrosion in plants | Issues and Nitto Denko XG Tape solution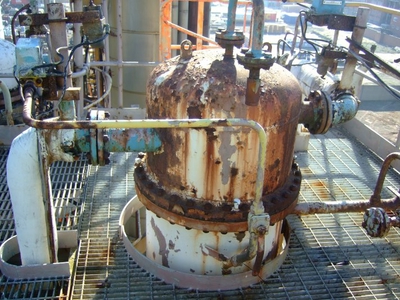 Corrosion issues in plants prolongs maintenance, increases operating costs, reduces efficiency and poses safety risks to workers. To optimize equipment and machinery performance, corrosion prevention is vital. This means ensuring the successful installation of protective coatings on items that are susceptible to corrosion.
See more | All-round anticorrosion solution
Types of Corrosion in plants
Oxide corrosion: An electrochemical process on metal surfaces when oxygen molecules dissolve in water. This type of corrosion occurs when lagging isn't installed properly, or when protective surface coatings fail or were never applied.
Galvanic corrosion: A process that occurs when two dissimilar metals contact each other, creating an electrical reaction that promotes corrosion.
Hot corrosion: Accelerated corrosion due to the presence of salt contaminants that form molten deposits, which damage protective surface oxides.
Erosion: The combination of high fluid surface velocities and an aggressive chemical environment that wears away a surface's protective scale or coating.
Plant Corrosion Danger Zones
The Consequences of Foregoing Corrosion Prevention in a Plant
Safety risks: When corrosion affects systems carrying steam or hot water—such as pipes—material or welds may fail, causing bodily injury or death.
Fouling: Power plant systems foul because of the ingress of moisture, dust or salt in the air.
Pipe corrosion: Insulating with an outer finish or jacketing keeps water from contacting tank shells or pipes, preventing corrosion, pitting, cracking and failure.
Contract-related fines: When corrosion affects a plant's system, it may not start up after a maintenance outage, leading non-delivery fees for being out of service.
Pollution control: Corrosion in tanks may hinder a plant's attempts to control sulfur emissions in the environment. Chemical emissions lead to acid rain, which damages buildings and other structures in a plant.
High maintenance costs: Corrosion can account for up to 75 percent of a plant's arrest time during maintenance and up to 54 percent of production costs.
Gas or air leaks: Unaddressed plate corrosion leads to air or gas leaks. The problem generally occurs when the lagging system fails.
Flue gas inlet duct problems: Gases within ducts attack the system physically and chemically.
Corrosion in plants leads to costly repairs, prolonged maintenance, material losses, poor performance and, if left untreated, failure. Industry experts recommend corrosion prevention in the form of preventive and control strategies, such as regular inspections and the use of protective coatings. The success of these coatings, however, depends on creating the optimal conditions to clean the respective surface and allow the coatings to dry according to the manufacturer's instructions. However, conventional protection coatings using paint failed to

thoroughly

resolve corrosion problems.
Vina Trade Synergy in partnership with Nitto Denko offers an all-round solution to corrosion using Oxidation Polymerized Outdoor Anti-corrosion Tape NITOHULLMAC XG Series.
Bài viết liên quan
Dự án liên quan
Các sản phẩm dùng cho dự án
Chính sách thanh toán - Chính sách khiếu nại - Chính sách vận chuyển - Chính sách đổi trả và hoàn tiền - Chính sách bảo hành - Chính sách bảo mật thông tin

CÔNG TY TNHH VINA TRADE SYNERGY
GPKD số 0107475020 do Sở KH và ĐT TP Hà Nội cấp ngày 16/02/2016
Địa Chỉ: Thôn Yên Khê, X. Yên Thường, H. Gia Lâm, Tp. Hà Nội